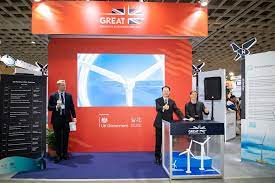 London: The British Office Taipei, together with the British Chamber of Commerce in Taipei are hosting the UK Pavilion at Energy Taiwan for the third consecutive year, bringing 14 British offshore wind supply chain companies to showcase UK offshore and floating wind expertise in Taipei Nangang Exhibition Centre Hall 1 from 18-20 October.
With the largest number of British companies' participation in the UK Pavilion this year, it clearly demonstrates the UK's commitment to support Taiwan's 2050 net zero goals with strong renewable energy development ambitions. There are more than 40 UK offshore wind companies with offices in Taiwan, many of these offices serving as the regional Asia-Pacific hub. The UK Government's UK Export Finance has already provided more than £500 million in export credit guarantees specifically for three Taiwanese offshore wind projects since 2019.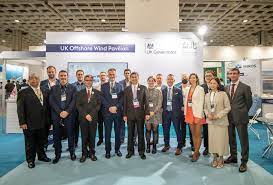 Stephanie Ashmore, Director of Trade and Investment at British Office Taipei made opening remarks at the UK Pavilion, welcoming industry in Taiwan to visit the Pavilion during the expo. She said:
Taiwan holds a special place in the global offshore wind landscape. The UK and Taiwan have been allies in offshore wind energy for nearly two decades. This collaboration has been mutually beneficial, involving policy guidance, industrial development, and R&D partnerships. Building upon the success of last year's UK pavilion, the 14 UK companies who present a cross-section of the industry, will bring their expertise, skills and services to further strengthen our longstanding partnership in renewable energy to drive the energy transition.
Building on the UK's strength in decarbonisation and clean growth technology, the UK is at the forefront of fixed bottom and floating offshore wind deployment in Europe, and the second largest offshore wind market in the world. The UK currently has 13.9 GW of offshore wind fully commissioned, there is also a total pipeline of around 78GW of offshore wind projects. The British Energy Security Strategy (BESS), published in April 2022, set the ambition to achieve up to 50 GW of offshore wind by 2030, including 5 GW from innovative floating technology.
The 14 UK companies exhibiting at the UK Pavilion demonstrate UK supply chain expertise on offshore windfarm planning & construction, engineering consulting, Operations & Maintenance services, green energy talent recruitment, floating wind technology, subsea equipment, ocean surface measurement, inspection services, and temporary power & temperature solutions for offshore wind farms.