Chinese envoy visits Saudi Arabia, calls for fair settlement of Palestine issue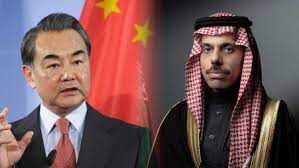 Beijing: Amid a mounting death toll and expanding humanitarian crisis in the Israel-Palestine conflict, Zhai Jun, Special Envoy of the Chinese Government on Middle East issues, visited Saudi Arabia to advance China's efforts to cool down the situation. Zhai told Saudi Deputy Foreign Minister Waleed Al-Khuraiji during his visit to the country that the current situation between Palestine and Israel was grim.
"China is saddened by the large number of civilian casualties caused by the conflict and the deterioration of the humanitarian situation," Global Time reported on Friday quoting Zhai as saying. He said China was willing to maintain communication and coordination with Saudi Arabia, pool efforts to promote peace, and promote a comprehensive and fair settlement of the Palestinian issue at an early date. Zhai said,"China believes that only by ceasefire and cessation, and promoting the cooling of the situation can there be necessary conditions for a political settlement." Restarting Palestinian-Israeli peace talks on the basis of the "two-state solution" was the only realistic way to break the vicious cycle of the Palestinian-Israeli conflict, he emphasized. He said,"Saudi Arabia is an important country in the Middle East, and China has always placed Saudi Arabia at the forefront of China's Middle East diplomacy.
China is willing to work with Saudi Arabia to implement the important consensus reached by the leaders of the two countries and continuously enhance China-Saudi Arabia comprehensive strategic partnership." Zhai started his trip to the Middle East by visiting Qatar on October 19 where he met with his Russian and Qatari counterparts. Later on, Zhai attended a peace summit in Cairo, Egypt before visiting the United Arab Emirates. Zhai had said in the meeting with Mikhail Bogdanov, Russia's Deputy Foreign Minister and Special Presidential Representative for the Middle East and Africa, that China and Russia shared the same position on the Palestinian issue. "China is ready to maintain communication and coordination with Russia to cool down the Israeli-Palestinian conflict and play a positive role in promoting a comprehensive, just, and lasting resolution to the Palestinian issue."