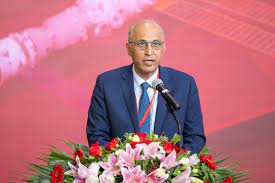 Beijing: Pakistan looks forward to further strengthening exchanges with China, accelerating the high-quality joint construction of China-Pakistan Economic Corridor (CPEC), deepening economic, trade, cultural, and sub-national exchanges, and pushing bilateral relations to a higher level, Pakistan Ambassador to China, Moin ul Haque said.
The friendship between Pakistan and China is iron-clad and unbreakable. It is the inevitable trend of history and the aspiration of the people, he said while addressing at a farewell reception.
He said, in every significant moment, the Chinese people have consistently demonstrated goodwill and empathy towards the Pakistani people. Regardless of external changes and numerous challenges, he added that the friendship between the two countries is enduring and extensive, CEN reported. Ambassador Haque said that his mission to China is a highlight of his career, and he deeply felt the sincere friendship between the Pakistani and Chinese people during his stay in China. "During my three-year tenure, I have visited Wuhan, Shaoshan, Ningde, Xinjiang, Shandong, and other regions, creating numerous beautiful memories and witnessing the development of China.
Especially in the past 40 years, China has made remarkable achievements in economic development, which Pakistan can learn from," he added. At the event, Ambassador Haque expressed his sincere gratitude to friends from all walks of life for their contributions to the friendship between Pakistan and China. He said that Pakistan and China have a long history and a splendid culture. The reception was attended by Chang Qide, the United Nations Coordinator in China, ambassadors of Indonesia, Uzbekistan, Lebanon, and Turkey in China, as well as officials from the Embassy of Pakistan in China and representatives from various sectors who have long supported China-Pakistan friendship.