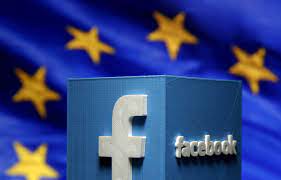 Brussels: European officials have extended a Norwegian ban on Meta's processing of personal data for behavioural advertising to the entire European Economic Area (EEA).
The European Data Protection Board (EDPB) said the "urgent binding decision" followed a request from Norwegian authorities to take action. Meta was notified of the decision that will take effect next week.
"It is high time for Meta to bring its processing into compliance and to stop unlawful processing," EDPB chair Anu Talus said in a statement.
Behavioural advertising is when companies target ads based on a person's online habits such as website browsing.
The EU's privacy laws, known as the General Data Protection Regulation (GDPR), outline specific conditions in which businesses are allowed to process personal data.
The reasons include legal obligations, saving someone's life, the public interest, or having a person's "unambiguous consent". The ban from EU data protection officials refers to processing data based on legitimate interest or contract.
"The EDPB's decision is a major win for the EU and for the right to data protection," said Tobias Judin, head of the Norwegian Data Protection Authority's international section, in comments sent to Euronews Next.
"The EDPB is urgently cracking down on Meta's unlawful practices, setting a clear precedent that violations of the law will not be tolerated. This definitely puts pressure on Meta," he added.
"I think that it will also have an impact on the larger ad-tech ecosystem since many companies engage in similar activities as Meta."
The EU decision came after Norway's data protection authority imposed a daily fine of 1 million Norwegian kroner (roughly €85,000) on Meta from August 14 over the targeted advertising.
Meta is contesting the Norwegian decision in court.
Meta said earlier this week that it would offer a subscription service for people in the EU, EEA, and Switzerland to use Facebook and Instagram without ads.
Otherwise, they could use the platforms for free with "ads that are relevant to them".
They said the subscription service would be offered starting in November to comply with European regulations.
It will cost €9.99/month on the web or €12.99/month on iOS and Android and will apply to all linked accounts, but from March of next year, the prices will rise for each account.
A Meta company spokesperson said that EDPB members "have been aware of this plan for weeks and we were already fully engaged with them to arrive at a satisfactory outcome for all parties."
"This development unjustifiably ignores that careful and robust regulatory process."
Meta's social media platforms Facebook and Instagram have more than 250 million active users in the EU and EEA, according to Norway's Data Protection Authority, which does not think the new scheme is in line with GDPR.
The company has previously come under fire in the EU over data protection.
It was issued a €1.2 billion fine in May following an inquiry by the Irish Data Protection Authority. It was the largest fine under GDPR over Meta transferring personal data to the US.
Meta is also one of six tech giants subject to the EU's Digital Markets Act (DMA), which came into effect late last year.
The law imposes specific obligations on these large online platforms, such as allowing users to access the data they generate and prohibiting them from tracking users' activity across the web.