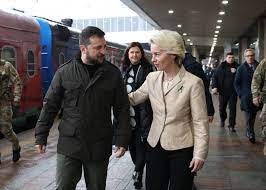 Kyiv: European Commission President Ursula von der Leyen arrived in Kyiv on Saturday ahead of a report the European Union is expected to present next week about Ukraine's progress in its membership bid, a Ukrainian lawmaker said.
Parliamentary deputy Yaroslav Zheleznyak said on his Telegram channel that von der Leyen was expected to speak in the Ukrainian parliament.
The EU assessment due on Wednesday is expected to detail how far Ukraine has advanced in fulfilling various economic, legal, and other criteria to clear the way for accession talks to be launched in December.
Ukraine, which applied to join the European Union days after Russia's full-scale invasion in February 2022, sees joining the trade bloc as a top priority.
The EU's 27 members are due at a summit in December to decide whether to allow Kyiv to begin accession negotiations, a move requiring the unanimous backing of all the bloc's members.
Ukraine's bid got a boost on Thursday when German Foreign Minister Annalena Baerbock said she was confident the bloc would advance Ukraine's application next month.
Membership talks typically take years and involve extensive legal, political and economic reform. Ukraine's case is made much harder by the war raging in its south and east with no end in sight.
Von der Leyen's visit comes at a difficult moment for Ukraine as its troops battle fatigue and concerns swirl over the future of vital U.S. military assistance which Kyiv relies on heavily. She is likely to meet President Volodymyr Zelenskiy.