TikTok CEO to meet top EU chiefs next week amid disinformation worries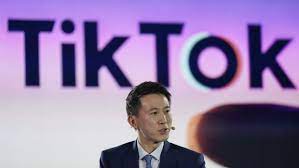 Brussels: TikTok CEO Shou Zi Chew will meet EU industry chief Thierry Breton, EU digital chief Vera Jourova and EU antitrust chief Didier Reynders in Brussels next week, TikTok said.
The visit by Chew, his second to Brussels, comes amid heightened regulatory scrutiny of TikTok's role in the proliferation of disinformation following Hamas' attack on Israel last month and the Israel-Hamas war in Gaza.
Chew will meet Breton on Nov. 6 and Jourova and Reynders on Nov. 7, a TikTok spokesperson said.
He will update the commissioners on TikTok's data security regime called Project Clover which started to store European user data locally this year, a TikTok spokesperson said.
The company has a data centre in Dublin, Ireland, and is building two more in Ireland and Norway.
Chew will also brief them on the company's compliance with new EU online content rules known as the Digital Services Act which requires Big Tech to do more to counter illegal and harmful online content on their platforms, the spokesperson said.
Breton last month gave TikTok an Oct. 25 deadline to provide information on its crisis response measures. He also ordered the company to provide details by Nov. 8 on how it protects the integrity of elections and minors online on its platform.
An agenda-setting and market-moving journalist, Foo Yun Chee is a 20-year veteran. Her stories on high profile mergers have pushed up the European telecoms index, lifted companies' shares and helped investors decide on their move. Her knowledge and experience of European antitrust laws and developments helped her broke stories on Microsoft, Google, Amazon, numerous market-moving mergers and antitrust investigations. She has previously reported on Greek politics and companies, when Greece's entry into the eurozone meant it punched above its weight on the international stage, as well as Dutch corporate giants and the quirks of Dutch society and culture that never fail to charm readers.