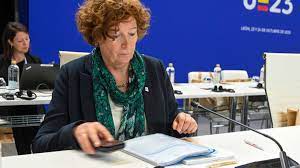 Brussels: Belgium's deputy prime minister called on the Belgian government to adopt sanctions against Israel and investigate the bombings of hospitals and refugee camps in Gaza.
"It is time for sanctions against Israel. The rain of bombs is inhumane," Deputy Prime Minister Petra De Sutter told Nieuwsblad newspaper. It is clear that Israel does not care about the international demands for a ceasefire, she said.
De Sutter said the European Union should immediately suspend its association agreement with Israel, which aims at better economic and political cooperation.
She also said an import ban on products from occupied Palestinian territories should be implemented and violent settlers, politicians, soldiers responsible for war crimes should be banned from entering the EU.
At the same time, she said, Belgium should increase funding for the International Criminal Court in The Hague to ''investigate the bombings while cutting money flows to Hamas.''
Israeli representatives will not participate at a Thursday "humanitarian conference" for Gaza in Paris organised by French President Emmanuel Macron, his office said.
Like other governments, Israel nevertheless has "an interest in the humanitarian situation improving in Gaza", an official in Macron's office, who asked not to be named, told reporters on Wednesday.
Macron had spoken on Tuesday to Israeli Prime Minister Benjamin Netanyahu and the pair will talk again once the aid conference is over, the Elysee Palace added.
The French leader had also spoken to Egypt's President Abdel Fattah al-Sisi and Qatar's Emir Sheikh Tamim bin Hamad Al-Thani on Tuesday, his office said.
Both countries are playing a key role in attempts to bring more aid into the Gaza Strip.
Thursday's aid conference has been put together in a hurry on the sidelines of the Paris Peace Forum on November 10-11, an annual event launched by Macron.
Recent weeks have seen growing calls for humanitarian "pauses" or a full ceasefire to allow aid to enter Gaza and keep hopes alive of freeing the prisoners.
Italy will send a hospital ship close to the coast of Gaza to help treat victims of the Israeli aggression, Italian Defence Minister Guido Crosetto said on Wednesday.
The ship is leaving on Wednesday from the western Italian port of Civitavecchia with 170 staff, including 30 people trained for medical emergencies, the minister said, adding that Italy was also working to send a field hospital to Gaza.
Crosetto suggested that two Italian naval vessels already sent to the region were likely to remain in place.