China beefs up financial support to real economy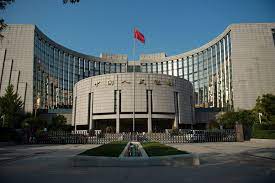 Beijing: China's policymakers leverage financial resources to support small- and medium-sized enterprises (SMEs), scientific and technological innovation and green development, thereby boosting economic recovery and securing high-quality development.
At the Annual Conference of Financial Street Forum 2023 in Beijing, Pan Gongsheng, governor of the People's Bank of China as well as head of the State Administration of Foreign Exchange, said that the central bank had intensified counter-cyclical adjustments to bolster the real economy, such as lowering reserve requirement ratios for banks, bringing down interest rates, rolling out favorable policies for home buyers, and encouraging inclusive loans to agriculture and small firms.
The central bank will work to maintain reasonable credit and social financing growth, step up support for major national strategies, key areas and weak links, and lower financing costs for the real economy, Pan noted.
Yi Huiman, chairman of the China Securities Regulatory Commission, said that it will stick to the fundamental purpose of serving the real economy, focusing on five major tasks of promoting science and technology finance, green finance, inclusive finance, old-age finance and digital finance.
Participants of the three-day event spoke highly of the role of inclusive financing in meeting the diversified financial demands of the people and serving the high-quality development of the real economy.
"I am glad to see China is further promoting the high-quality development of inclusive finance, with banking networks penetrating nearly 98 percent of townships, and digital transformation making financial services more accessible and affordable for farmers as well as micro, small and medium-sized enterprises," said Christina Ongoma, the manager of financial institutions group for upstream advisory services at the International Finance Corporation.
China's inclusive finance has made solid progress and led the world, said Xing Wei, vice-president of the China Bank Association. By the end of September this year, the balance of inclusive financing loans to small and micro-sized enterprises was 28.4 trillion yuan (about 3.96 trillion U.S. dollars), with an average annual growth rate of around 25 percent over the past five years.
To maintain a reasonable economic growth rate, the financial sector could make full use of fintech to support the development of SMEs and foster long-term demands, said Cai Fang, an expert with the Chinese Academy of Social Sciences.
Efforts should also be made to develop digital inclusive finance, effectively apply cutting-edge technologies such as "open banking", digital identity and cybersecurity and fully unleash the potential of the digital economy, said Ling Hai, co-president of International Markets for Mastercard.
Meanwhile, the multi-level capital market system has further improved to increase financing support for innovative SMEs.
Since the Beijing Stock Exchange (BSE) was established in November 2021 it has become an accelerator, turbo-charging the growth of innovation-oriented SMEs, BSE General Manager Sui Qiang said, adding that nearly half of the 228 listed companies on the bourse are "little giant" firms, which represent elite SMEs that specialize in niche markets, boast cutting-edge technologies and show great potentials.
HSBC chief economist Janet Henry believes that the world economic recovery is not smooth sailing and still facing the pressure of growth and inflation balance, but some emerging economies with faster growth in research and development spending and manufacturing investment are expected to achieve better growth.
Pan said China will achieve its 5-percent growth target this year as there has been stronger economic momentum recently, with recovering production and consumption, stable employment, and improving price conditions.
The International Monetary Fund (IMF) on Tuesday revised its growth forecast for China to 5.4 percent. "The Chinese economy is on track to meet the government's 2023 growth target, reflecting a strong post-COVID recovery," read an IMF statement.