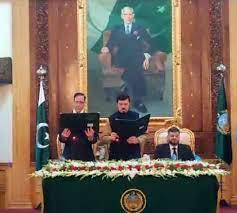 Peshawar: Justice Syed Arshad Hussain Shah (retd) here on Sunday night took oath as caretaker Chief Minister Khyber Pakhtunkhwa.
Khyber Pakhtunkhwa Governor Haji Ghulam Ali administered the oath to the newly appointed caretaker Chief Minister during an impressive ceremony here at Governor House.
Besides others, the oath-taking ceremony was attended by Chief Justice Peshawar High Court, Justice Muhammad Ibrahim Khan, Mayor Peshawar Zubair Ali, former caretaker provincial ministers, Chief Secretary KP Nadeem Aslam Chaudhry, IGP Akhtar Hayat Gandapor, Commissioner Peshawar and administrative secretaries of various departments.
The Governor congratulated the new caretaker Chief Minister and expressed best wishes to him.
Earlier, Syed Arshad Hussain Shah was appointed as caretaker CM KP by the Governor after a consensus on his name was reached between former Chief Minister Mahmood Khan and ex-opposition leader Akram Durrani at the Chief Minister's house under the constitution.
He was appointed after the death of former caretaker Chief Minister Azam Khan.
Arshad Hussain had earlier served as caretaker Law Minister, Chief Justice of Gilgit Baltistan court and judge of Peshawar High Court.