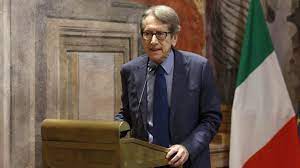 Brussels: Europe's Three cooperate on Middle East. According to Politico, Italy is working with France and Germany on new sanctions against Hamas and its international sponsors.
The outlet cites an unofficial EU document (a so-called non-paper) dated November 9, which highlights the importance of intensifying efforts to isolate Hamas internationally and delegitimise its claim to be the defender of the Palestinian cause.
Of course, although it's not cited, Iran – Hamas' most important backer – is part of this equation. The details. The E3 – not to be confused with the group that facilitated the Iranian nuclear deal up to 2015 – noted that the new measures should be implemented by a broad coalition of States, especially Arab countries, once the political conditions are favourable. They aim to deprive Hamas of resources, including funding and weapons and hit its infrastructure outside Gaza and its political and public standing.
As for the "how," one hypothesis hinges on extending the current sanctions regime against Hamas to include more of the organisation's individuals.
The document also suggests extending the current sanctions against Iran for its support of Russia, so as to "target [its] support for Hamas" in the form of its supply of weapons, such as rockets.
Hear it from Brussels. "There was no discussion on sanctions against Iran," said Italian Foreign Minister Antonio Tajani during Monday's Foreign Affairs Council in the Belgian capital. However, he added, "we also call on Iran [not to] raise the tone [and avoid supporting] aggressive initiatives by Hezbollah against Israel." The Franco-German-Italian document, "which aims to isolate Hamas, prevent it from harming, reduce its funding and prevent a surge of anti-Semitism in Europe and the world," was "at the heart of today's debate," he added.
The proposal is at an early stage and is being discussed with countries and European diplomats, reports Politico, pointing out that several member States fear that poor timing could backfire and exacerbate the conflict – which the EU is keen to contain.
Others argue that it would be useful to have measures ready in case there is evidence of Iran's involvement in the October 7 attack (which it denies) or if Tehran were to escalate the situation in the region.
Strasbourg's resolution. In October, the European Parliament condemned Iran's support for Hamas as well Iran, citing its "destabilising role in the region" by means of its incitement to "violence" and calls to escalate the conflict, as well as the support it provided to its associate Hezbollah. MEPs also reiterated the urgency of adding "the entirety of the Islamic Revolutionary Guard Corps and Hezbollah on the EU list of terrorist organisations" and called for "a thorough investigation into the role of Iran" in financing and supporting terrorism in the region.
Senator Terzi's take. These measures are urgent, said Senator Giulio Terzi di Sant'Agata (Chairman of the Italian Senate Committee on European Union Policy and member of the ruling party, Brothers of Italy), "in light of the financial and military support provided by the regime in Tehran, through the IRGC, to these proxy organisations that relentlessly fuel violence and conflict in the region."
Speaking to our sister website, he recalled that several European States have proven that terrorist acts "have been carried out or planned following Tehran's instructions" and stressed that the IRGC's listing as a terrorist organisation "can no longer be postponed."
He called on the Italian government to take "every political and diplomatic action" at the UN, in the EU and every other forum to that end so as to "protect regional and international security and stability and to reaffirm the principles of justice, democracy and the rule of law in Iran."