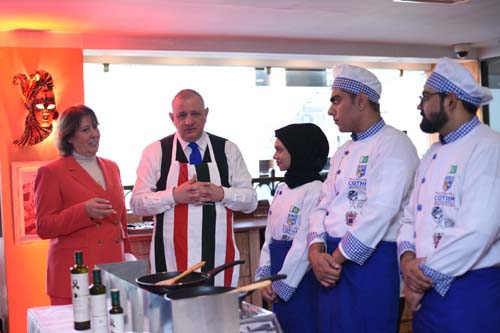 Celina Ali
Islamabad: Italy's Ambassador to Pakistan, Andreas Ferrarese, Monday formally urged UNESCO to acknowledge Italian culinary traditions as intangible heritage, emphasizing the profound impact of Italy's gastronomic culture both locally and globally.
He was speaking at an event to celebrate the 'Italian Cuisine Week.' Ambassador Andreas Ferrarese and his wife Albana Ferrarse hosted guests to mark the event.
With a diaspora of approximately 50 million people of Italian origin, , Ambassador Ferrarese underscored the pivotal role of Italian migration in disseminating its culinary heritage across the world.
He said pizza and pasta are portrayed as iconic symbols of Italian gastronomy, celebrated globally for their universal appeal. The narrative explores the intriguing competition between Naples and China regarding the invention of spaghetti, showcasing the dynamic exchange and evolution of culinary traditions transcending borders, he added.
The envoy said the continuous evolution of Italian cuisine was highlighted through the introduction of tomatoes and eggplants from the Americas.
He delved into the fusion of traditional Italian culinary practices with influences from immigrant communities, notably the Albanian immigration, illustrating the adaptability of Italian gastronomy to new ingredients and global influences.
The evolving nature of Italian cuisine is vividly depicted, showcasing a blend of traditional flavors with international influences, from kebabs to diverse global culinary traditions, he added.
Turning attention to efforts to globalize Italian culinary activities, Ambassador spotlighted a collaborative project in Pakistan funded by an Italian agency for collaboration and development.
This initiative, he said, centered on olive oil production, serves as a compelling example of how culinary projects can foster cultural connections and drive economic development. The increased consumption of olive oil in Pakistan stands as a tangible outcome of this endeavor.
Ambassador Andreas Ferrarese urged UNESCO to reinforce the enduring impact of Italian culinary traditions on the world stage.