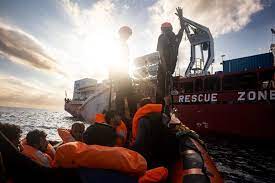 Rome: Hundreds of migrants were rescued and escorted towards the island of Lampedusa over the weekend.
Italian authorities also recovered the body of an Eritrean man who had died while crossing the Mediterranean.
Migrants continued to cross the central Mediterranean from North Africa to Italy in large numbers at the weekend, according to local news reports said.
Among those who arrived on the island of Lampedusa are nationals of Syria, Pakistan, Bangladesh and Egypt. 107 migrants were reportedly brought in by an Italian coast guard boat, and the port authorities picked up another 43 who arrived on a smaller boat that is believed to have left Chebba in Tunisia.
A large fishing vessel reportedly carrying more than 220 migrants was escorted into Lampedusa by the coast guard. The regional newspaper La Sicilia published photos of the vessel with at least two decks full of migrants nearing the dock. The 22-meter boat had set out from Zuwara in Libya on Friday night. The migrants on board told the authorities they had paid between $3,500-$4,500 per person (around €3,275-€4,210).
On Saturday night at least two more boats arrived on Lampedusa, bringing a total of around 150 migrants to the island.
After disembarking at the main harbor, the migrants were taken to the 'hotspot' reception center which was already holding 354 people. Previously, the center had a capacity for around 400, but the Italian authorities have been operating regular transfers from the first reception towards the main island of Sicily and the Italian mainland.
According to the newsicilia.it the migrants on board the boat reported paying around 2,000 Tunisian Dinars (about €590) each for the journey.
On Sunday, four separate boats brought in 194 migrants. On board one of the boats, the Italian authorities said they found the body of an Eritrean man, reported to be around 28 years old.
The Italian news agency ANSA reported that at least two migrants fell into the water as the Italian authorities neared one of the boats, and have been reported missing. On board one of those boats on Saturday authorities approached a boat carrying 67 people, including Somalis, Gambians and Ivorians. They said they had set off from the Tunisian town of Sfax and had paid about 1,500 Tunisian Dinars (about €445) for their journey.
In a 24-hour period ending on Saturday, reported ANSA, 12 boats arrived bringing a total of 583 people. In the Lampedusa hotspot on Saturday, there were 362 people, including 79 unaccompanied minors, reported ANSA. On Sunday morning at least 266 of those were transferred to the Sicilian main island. On Saturday evening, another ferry departed for Sicily with more migrants on board.
Also on Saturday, in the afternoon, the private rescue ship Geo Barents, operated by the humanitarian organization Doctors without Borders (MSF), said they picked up 81 people "from an unseaworthy wooden boat," which had been spotted by a plane in international waters off the Libyan coast. The Geo Barents' crew reported that after that rescue, they had a total of 162 migrants on board and were headed for the Italian port of Civitavecchia, near Rome, for disembarkation.
Also on November 11, the Ocean Viking rescue ship, operated by SOS Mediterranee, said it had picked up 61 people from a wooden boat, also in international waters off Libya. On the media platform X they said they had received alerts from surveillance planes and a nearby fishing vessel. Among those they rescued were three women and two children.
The crew of the Ocean Viking said they had been assigned the port of Ortona for disembarkation, which would take "three extra days of unnecessary navigation to finally reach a place of safety."
The Italian humanitarian medical organization Emergency disembarked the 118 migrants its crew rescued last week in the southern port of Brindisi on Saturday. Many of the migrants recounted stories of torture and violence in Libya, their head of mission, Emanuele Nannini, said in a video, adding that he and the crew were "really relieved to see them disembark and to see their future be brighter."
Videos posted to X last week show the rescue carried out by the crew of Life Support, Emergency's rescue ship, in slightly choppier seas, just as storms and extreme weather had been forecast for the area.
After the rescue, Emergency said that the 118 migrants had been "floating in the Mediterranean for over three days, and were running out of water and food" when they were rescued. The crew said waves had been "up to three meters high" when they carried out the rescue.
They had set off from Benghazi in Libya between three and four days before being picked up, Emergency said in a press statement. Among the group was a 21-year-old young man from Tigray in Ethiopia.
"I left Tigray because of war," he told Emergency. "I fled to Sudan and then to Libya where I was imprisoned for six months. Sometimes they would hang us by our feet, or hit us with tubes and bars. They would call our families while we were screaming to make them send money for our release. My mother had to sell her apartment to set me free. I just wanted to get to Europe so I can live a life of dignity and be free."
Another young man on board, a 25-year-old Syrian, told the Emergency crew he had left Syria in 2017 because life had become so difficult there due to the war that he wasn't able to work. "You can be kidnapped or killed there at any moment for no reason," said the man.
He also fled first to Sudan and then Lebanon, where he says he worked for the Red Cross and the Red Crescent. But due to the economic crisis in Lebanon, he was forced to flee once more to Libya.
"In Libya, I wasn't able to continue my work with the Red Crescent because I was a foreigner. I suffered discrimination in Libya because I'm Syrian. So, I was forced to take the decision to try and board a boat for Europe. On my second attempt, I made it, thanks to you [the Emergency crew]. I hope that I can now continue to work in the humanitarian field in Europe, that is my biggest wish."