Sea Guardian-3 Exercise Strengthens China-Pakistan Naval Cooperation in Arabian Sea: Experts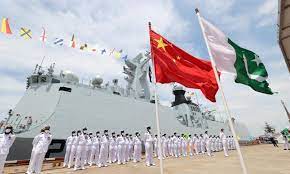 Global Times
Beijing: China and Pakistan have common interests in jointly safeguarding strategic sea lanes in regions like the Indian Ocean, where piracy, terrorism and other dangerous activities pose threats to the maritime transport of energy and goods, Wei Dongxu, a Chinese military expert said on Sunday. The largest-ever joint exercise between the Chinese and Pakistani navies began in Pakistan yesterday as the two countries continue to enhance their capabilities in jointly safeguarding strategic sea lanes as well as regional peace and stability, experts told Global Times on Sunday.
The Sea Guardian-3 joint maritime exercise kicked off with an opening ceremony at the Karachi Naval Dockyard.
Participating forces from the Chinese People's Liberation Army (PLA) Navy include the Type 052D guided missile destroyer Zibo, the Type 054A guided missile destroyers Jingzhou and Linyi, with Pakistani media reporting that a conventional attack submarine and a submarine support ship along with a marines corps detachment from the PLA Navy are also involved. Under the common aim of jointly responding to maritime security threats, the nine-day exercise in the waters and airspace of the northern Arabian Sea will organize training courses including formation maneuvering, VBSS (visit, board, search and seizure), helicopter cross-deck landing, joint search and rescue, joint anti-submarine and main gun shooting, plus professional exchanges and mutual visits.
It is the third and the largest edition of the Sea Guardian exercises. The first edition was held in 2020 in the northern Arabian Sea waters, and the second edition was held in 2022 in waters off Shanghai. "The exercise is dedicated to enhance the all-weather strategic cooperative partnership, boost defense cooperation and deepen professional cooperation," said Rear Admiral Liang Yang, commander at a PLA Navy base and the general director of the exercise from the Chinese side, said at the opening ceremony.
Liang said he hopes the two navies can further enhance their joint operational capabilities in dealing with maritime security threats and safeguard maritime peace. Indian Ocean, where piracy, terrorism and other dangerous activities pose threats to the maritime transport of energy and goods. Joint drills like these also safeguard the China-Pakistan Economic Corridor, an important part of the China-proposed Belt and Road Initiative, and comprehensively contribute to the peace and stability in the Indian Ocean region, an expert familiar with China-Pakistan military cooperation, told the Global Times under the condition of anonymity. Outside of joint drills, China-Pakistan naval cooperation also includes high-level visits, expert talks, training exchanges and equipment cooperation. In May, China wrapped up delivery of all four Type 054A/P guided missile frigates to the Pakistani Navy, with the Hangor-class submarines being built simultaneously in China and Pakistan. Observers expect further in-depth cooperation between the PLA Navy and the Pakistan Navy in the future.