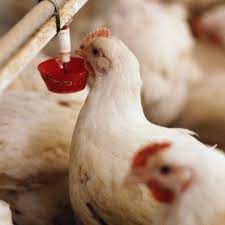 London: More than 80 million chickens died before reaching slaughter weight in the UK last year, with mortality rates the highest for at least a decade, reveal official figures.
Animal welfare organisations say the fast-growing chicken breeds that dominate production have higher mortality rates, lameness and muscle disease than slower-growing breeds. They are calling on retailers to switch to slower-growing breeds and provide more space for the birds.
An analysis of official figures in a new report by the animal welfare campaign group Open Cages found 82.3 million chickens died before reaching kill weight last year, a mortality rate of nearly 7%. It compares with 64 million chickens that died prematurely in 2021.
More than 1.1 billion chickens are slaughtered for meat each year. The UK's Red Tractor farm assurance scheme requires mortality rates not to exceed 5%.
The British Poultry Council said that avian flu and extreme summer temperatures had contributed to mortality rates last year. It said the industry worked hard to ensure welfare for all birds.
Connor Jackson, head of Open Cages, said a move to slower-growing breeds could significantly reduce mortality rates. Fast-growing breeds, which campaigners call "Frankenchickens", grow so quickly that their hearts and bone structure can struggle to cope.
The British Poultry Council says there isn't consumer demand for a widespread adoption of slow-growing breeds, which would significantly increase the price of chicken meat in supermarkets
He said: "These figures highlight the shocking scale of suffering and death at the heart of the UK's chicken industry. Just like eggs from caged hens, Frankenchickens must go if we want to live up to our ambitions of leading animal welfare standards."
The RSPCA said the figures highlighted the poor welfare standards in modern chicken production. A spokesperson said: "While the avian influenza outbreak will likely have impacted mortality rates in broilers, it is clear that such poor welfare standards and the use of fast-growing breeds will be contributing to the high mortality rate."
An initiative supported by animal welfare organisations, now called the Better Chicken Commitment, was launched in early 2017 to improve poultry welfare in broiler production. It stipulates more space for the birds and the use of slower-growing breeds.
The government said last year that one of its priorities was to implement the commitment.
Waitrose and Marks & Spencer have signed up to the initiative, but other major supermarkets have not. The animal welfare charity the Humane League UK challenged the government in a judicial review earlier this year over the use of fast-growing meat (broiler) chickens, which it argued are unlawful under animal welfare laws. Its challenge was rejected, but it has been granted leave to appeal.
The British Poultry Council says the production of slow-growing breeds requires more food and space, with a greater environmental impact. It said there was not consumer demand for a widespread adoption of slow-growing breeds, which would significantly increase the price of chicken meat on supermarket shelves.
It says consumers are offered chicken across different production systems, including organic and free range. And that the industry invests in research to improve efficiency and welfare, with data measuring health and welfare in the public domain so it can be scrutinised and challenged.
Richard Griffiths, chief executive of the council, said: "Our members consistently report mortality of below the 5% limit across all production types, so it is disingenuous to label one system or breed as better or worse.
"We take pride in our work to ensure good welfare for all our birds. We continue to drive improvements where we can, while reducing our environmental impact, increasing our productivity and providing affordable food for the nation."
A Red Tractor spokesperson said: "Last year was unprecedented for the UK and Europe's poultry industries, which saw extreme heat stress on flocks. Ongoing avian influenza measures required all flocks, regardless of breed, to be kept indoors.
"Red Tractor poultry standards require farms to monitor the health of their birds at least twice every day. Farms are expected to investigate, record and act on causes of mortality. Our farmers work with their vet to maintain and improve husbandry procedures."
A spokesperson for the Department for Environment, Food & Rural Affairs said: "As the highest-ranked G7 nation on World Animal Protection's Animal Protection Index, the UK is a world leader on animal welfare, and all farm animals, including meat chickens, are protected by extensive legislation to avoid unnecessary suffering. In 2022, we saw extreme heat events and outbreaks of avian influenza which affected the level of mortality seen on farms compared with previous years. Our Animal Health and Welfare Pathway is already providing incentives to farmers to adopt new technology to improve welfare and looking at supporting farmers to meet Better Chicken Commitment standards."