Young people to make their voice heard in Commons chamber at UK Youth Parliament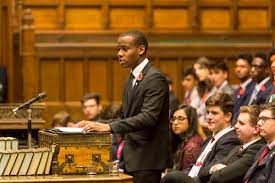 London: Young people from across the United Kingdom will get the chance to have their say in the House of Commons during a sitting of the UK Youth Parliament next Friday.
The 224 young people, ranging in age from 11 to 18, will meet on the 17 November from 11:00.
The topics chosen by the Members of the Youth Parliament to discuss are:
Holiday Hunger – Create provisions to ensure young people have access to meals outside of term time.
Quality of Food – For school meals to be made using good, healthy, and nutritious ingredients and none ultra-processed foods.
Standardisation – Ensure young people all have access to the same quality and volume of food.
Financing and Funding – Create arrangements to fund school meals.
Additional Pricing – Ensure the prices of any additional food reasonable and consistent across the UK.
The Speaker of the House of Commons, Sir Lindsay Hoyle, will chair the morning session.
He said: "It is so important that we, as politicians, hear the views of young people, which is why I am really looking forward to chairing this year's UK Youth Parliament.
"For the first time ever, we will hear from representatives of the Crown Dependencies of Jersey, Guernsey and the Isle of Man – alongside their colleagues from the UK Overseas Territories."
Dylan Rees-Coshan, Member of Youth Parliament for Bournemouth, Christchurch & Poole, said "Members of Youth Parliament will take over the Commons Chamber to debate the food related concerns of young people in the UK.
"These issues have been carefully considered and are thought to be the most effective and achievable ways of ensuring extended provision of free school meals are something the UK Government can implement.
"It's imperative that young people's views on food insecurity are taken seriously into account by decision-makers, and we hope our debate will showcase this."
The Rt. Hon. Stuart Andrew MP, Parliamentary Under Secretary of State (Department for Culture, Media and Sport), and Parliamentary Under Secretary of State (Department for Business and Trade) (Minister for Equalities), said: "I am delighted to be attending the UK Youth Parliament House of Commons sitting this year to hear directly from young people on the issues that they care about the most.
At DCMS, a key priority of mine is embedding youth voice at all levels of decision making.
"Our National Youth Guarantee is providing young people with access to activities, adventures away from home and volunteering in direct response to the findings from our 2021 review, which engaged around 6,000 young people across England."