China urges immediate ceasefire in Gaza to protect civilians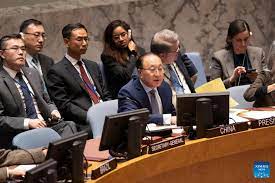 Beijing: China on Monday urged an immediate ceasefire in the Gaza Strip to protect civilians and step up aid amid extremely severe humanitarian situation. Responding to questions regarding attacks on medical facilities in the conflict zone, the spokesperson of the Chinese Foreign Ministry Mao Ning said during her regular briefing that relevant parties of the international community should also take concrete measures and make greater efforts to this end.
She said that it has been over a month since the Gaza conflict broke out. The humanitarian situation on the ground has become extremely dire.
The struggling Dar Al-Shifa Hospital is the epitome of the ongoing humanitarian crisis in Gaza, she added.
Mao Ning said that China called for an immediate ceasefire between parties to the conflict, all efforts possible to protect civilians and scaled-up humanitarian aid efforts to ease the humanitarian crisis. Relevant members of the international community need to take substantive measures and make a great effort to this end, she added.