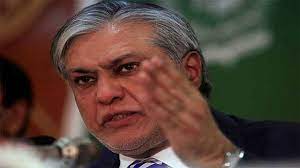 Liaquat Ali
Islamabad: Senator Ishaq Dar on Monday stated that parliament was not taken on board about the release of terrorists [under an agreement in 2018], as he placed the menace of terrorism on top of the afflictions of economy and energy plaguing the country.
According to the former finance minister, the 2018 agreement between the PTI-led government and Kabul, which involved the release of terrorists, resulted in an uptick in terrorist attacks in Pakistan, posing a threat to the safety of the general populace.
Dar, while speaking in the Upper House, questioned the reasons behind the shift in the anti-terrorism policy, leading to the release of numerous hardened terrorists.
The senator called for a thorough examination of the facts of the past 20 years to comprehend the upward trend in a better manner.
He recalled that all political parties, including the PTI, had expressed resolve to stem the scourge of terrorism under the National Action Plan (NAP) following the deadly Army Public School attack in December 2014 that saw 150 people, mostly students and teachers, dead.
Dar stressed the need for building a direct roadmap, similar to sitting together after the APS incident, and sharing all the details. He said he was not politicising the matter, instead desiring clarity on where mistakes were made.