Symposium on BRI Bio-health Agriculture held in Northwest China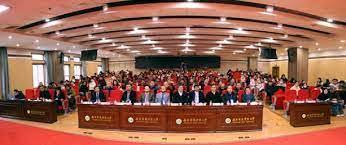 Beijing: The 5th International Symposium on the Belt and Road Bio-Health Agriculture and China-SCO National Bio-Health Agriculture Overseas Science and Technology Demonstration Park Construction Forum was held at Northwest A&F University (NWAFU), China and online.
Co-organizers include the Silkroad (Yangling) Biohealth Agricultural Industry Alliance (SBHAIA), The Sino-Pak Research Center for Agro-Biological Resources, the Sino-Pak Agricultural Cooperation and Exchange Center, Pakistan Branch of China Machinery Industry Engineering Group Co., Ltd, Sichuan Litong Food Co.,Ltd ( Puji Holdings Group), the University of Haripur, The University of Lahore, Sindh Agriculture University, Bahauddin Zakariya University, etc.
Prof. Muhammad Ashraf, Fellow of the Pakistan Academy of Science of Engineering (CAE) and Fellow of the World Academy of Sciences (TWAS), served as the conference consultant. Two other famous Pakistani scholars, Professor Shafiq Ur Rehman, President of Haripur University, and Professor Fateh Muhammad Marri, President of Sindh Agricultural University, also addressed the conference. At the symposium, a total of 18 keynote reports will be delivered on different field including comprehensive utilization of agricultural, forestry and aquatic wastes, healthy animal breeding and environmental protection, healthy grassland
and ecological restoration, production of bio-health agricultural products and agricultural environment management, China Economic Net (CEN) reported on Tuesday. More than 200 domestic and foreign representatives from Pakistan, Czech Republic, Egypt, Iran, Turkey, Bangladesh, Kazakhstan, Uzbekistan, Sri Lanka, Ethiopia and other countries, as well as the Institute of Dry Land Agriculture of Gansu Academy of Agricultural Sciences, Pakistan Branch of China Machinery Industry Engineering Group Co., Ltd, Sichuan Litong Food Co.,Ltd ( Puji Holdings Group) and other more than 20 units attended the forum. "Biohealth Agriculture" (BHA) was put forward by Professor Zhang Lixin, NWAFU in 2017 at the first International Symposium on the Belt and Road Bio-health.
It refers to the use of biological means for safe and high-quality agricultural production involving the sustainability of soil, plant, animal, human and ecosystem health, reducing or excluding external agricultural inputs, especially pesticides and synthetic fertilizers or other hazardous/toxic chemicals. During the five-day period, a sub-forum on healthy aquaculture and waste resource utilization will also be held, and an academic report on the application of modern biotechnology will be released. Participants are going to visit the Xi'an ground breeding base of the Shaanxi Provincial Aerospace Breeding Engineering Technology Research Center, local biological health vegetable bases, and the Yangling Demonstration Zone Agricultural Science and Technology Industrial Park, and hold exchange meetings with local enterprises.