China promotes peace at all levels: Chinese scholar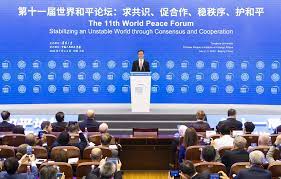 Islamabad: Dr. Victor Gao, a prominent Chinese scholar and chair professor at Soochow University, said on Monday afternoon that China promotes peace at all levels.
Speaking at an event in the Chinese embassy in Islamabad titled 'Chinese Modernization and Diplomacy,' he stressed the imperative of pursuing peace instead of war and underscored the global need for cooperation between nations.
Gao emphasized that any potential conflict between China and the United States would result in widespread global destruction.
During his address, Dr. Gao highlighted a critical decision faced by both China and the US: whether to escalate into confrontation or embrace peaceful development. He expressed China's commitment to peace and emphasized the importance of maintaining "healthy, steady, and constructive" relations between these two major powers for the greater good of the world.
Addressing the consequences of US violations of the one-China policy, Dr. Gao cautioned that each provocation would lead to unbearable consequences. He pointed out that the US had legally and internationally acknowledged the one-China principle since 1979.
Discussing China's internal decisions, he emphasized the country's commitment to reform, opening-up policies, and the promotion of globalization and free trade. He referred to the challenges and uncertainties outlined in decisions made during a crucial meeting of the CPC Central Committee in July 2018 and suggested that the world awaited China's response.
Dr. Gao also touched upon China's advocacy for the legitimate rights of Palestinians.
Critiquing the idea of an economic corridor to counter the China-Pakistan Economic Corridor (CPEC), he argued that such a proposal was flawed, emphasizing the need to assess India's exports and the viability of proposed routes.
Dr. Gao affirmed that the Belt and Road Initiative was designed to benefit the entire region and the world. While expressing China's desire for peace, he made it clear that the country was prepared to defend its homeland if necessary.