PPP unfazed by rival alliances: Zardari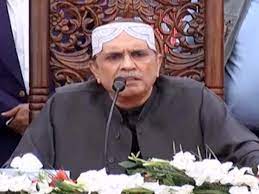 Liaquat Ali
Islamabad: Pakistan People's Party co-chairman Asif Ali Zardari says his party is not concerned about political alliances cobbled by rivals as they had faced such situations in the past.
In his statement, the former president, while expressing his confidence, said the PPP would emerge victorious in the general elections. He emphasised that the party was not worried by alliances formed against it.
He paid tribute to the party workers of Thar and said the people of the area had expressed their confidence in the PPP by according a warm welcome to Bilawal Bhutto-Zardari. He said the denizens of Thar had not forgotten their connection with the late Benazir Bhutto.
"The political parties are making alliances but the public support is sufficient for the Pakistan Peoples Party," he said, adding that the alliances were also made against the PPP in the past.
"As followers of Zulfikar Ali Bhutto, we know that the masses are the political power and with their help the PPP will secure victory in the general elections from Karachi to Khyber Pakhtunkhwa," the former president said.