China strongly condemns Israeli strike on UN staff in Gaza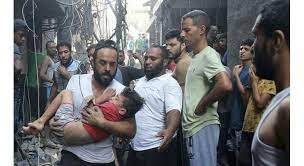 Beijing: China on Tuesday strongly condemned the Israeli strike on the staff of the United Nations (UN) in southern Gaza and reiterated its call to immediately stop fighting to prevent a larger-scale humanitarian disaster. "We are shocked by and strongly condemn the strike on the guesthouse for UN staff in southern Gaza," Chinese Foreign Ministry Spokesperson Mao Ning said during her regular daily briefing.
She said that the Chinese side "mourns the UN staff members killed in this round of conflict". "Violence does not bring true security. The use of force will not create lasting peace. The safety of UN staff members must be effectively protected," the spokesperson added. China, she said, called on relevant parties to be cool-headed and exercise maximum self-restraint, comply with international law, earnestly implement the UN General Assembly's resolution adopted on October 27, immediately stop the fighting, and prevent a larger-scale humanitarian disaster.
The UNRWA (United Nations Relief and Works Agency for Palestine Refugees in the Near East) Commissioner-General said on Monday that the Israeli forces had struck a guesthouse for UN staff in the southern part of the Gaza Strip. On the same day, the UN flag flew at half-mast at its New York headquarters in memory of the 101 UN staff members killed in Gaza since the start of the ongoing round of the Palestinian-Israeli conflict. About safety of Chinese citizens in Gaza, the spokesperson said that amid the escalating Palestinian-Israeli conflict, the CPC Central Committee attached high importance to the safety of Chinese nationals in the conflict area. "China's diplomatic missions overseas, under directions from home, maintained contact with Chinese nationals in the Gaza Strip all along. With the concerted efforts on various fronts, all the Chinese nationals have left Gaza safely in recent days," she added.