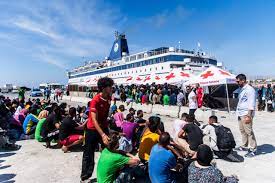 Rome: Migrants from dozens of boats that had departed from Libya and Tunisia disembarked on the Italian island of Lampedusa in a space of only 26 hours.
Following a high number of migrants arriving in only 26 hours, the hotspot on the Italian island of Lampedusa was housing 1,430 migrants as of Wednesday.
On Monday evening at 7 pm, after the transfer of 262 people, there had been only 138 hosted at the facilities.
Pre-identification procedures are underway by the police, who will then proceed to accompany those who will have to be transferred.
On the orders of the Agrigento prefect's office and in agreement with the interior ministry, 230 were scheduled to leave the island by the end of Wednesday morning via ferry to Porto.
A total of 394 migrants disembarked over the night between Tuesday and Wednesday.
Those on six large boats carrying between 35 and 136 people had been rescued by the patrol boats of the port authority, the Financial Police and a Swedish unit from the EU border control agency Frontex.
On Tuesday, 19 boats had arrived carrying a total of 903 people.
Then 14 last ones of the day came within a space of only three hours before midnight.
After that, 50 arrived that had left from the Tunisian coast of Sfax while 136 arrived from Sabratha in Libya.
Some 61 others from Bangladesh, Egypt, and Pakistan as well as 52 Egyptians and Syrians arrived that had left from Zuwara in Libya.
On Wednesday morning another 169 migrants arrived on Lampedusa on four different boats.
Two boats carrying 87 people were rescued off the coast by the Cp327 patrol boat of the port authority.
One, carrying 43 Sudanese nationals, managed to arrive at Cala Guitgia and the migrants were stopped as soon as came on land.
Another 49 Senegalese, Gambians, Guineas and Ivorians were instead taken off one ship and onto another by the NGO ship Nadir.