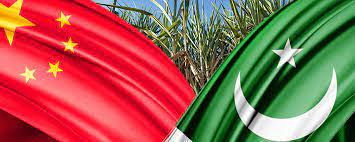 Islamabad: President of the Pakistan China Joint Chamber of Commerce and Industry (PCJCCI) Moazzam Ghurki said that Pakistan and China have the potential to produce high-quality sugar abundantly and export it globally.
During a think-tank session at the PCJCCI Secretariat, Ghurki emphasized that cooperation in sugarcane production between the two nations could lead to a significant positive impact, turning their friendship 'sweeter than honey.'
Ghurki highlighted the role of connecting people and experts from both countries, stating that facilitating collaboration in sugarcane production and processing could enable the export of high-grade sugar globally.
He particularly emphasized the potential revolutionary impact of 'Tissue Culture' in sugarcane production, mentioning the training provided by the Chinese academy of Tropical Agriculture Science (CATAS) to scientists worldwide.
Fang Yulong, Senior Vice President of PCJCCI, in his comments emphasized the need for modernizing Pakistan's agriculture sector to meet international standards.
CATAS, rejecting conventional seeds, offered its latest agricultural technology to Pakistan as part of the China-Pakistan Economic Corridor (CPEC). The focus was on disease-free seedlings and advanced techniques to enhance sugarcane production.
Hamza Khalid, Vice President of PCJCCI,stressed the importance of acquiring leading sugarcane varieties with resistance against diseases for the prosperity of Pakistan's sugarcane industry. He suggested initiating a sugarcane breeding program in collaboration with China.
Salahuddin Hanif, Secretary General of PCJCCI, highlighted the significant scope for cooperation between China and Pakistan in the agriculture sector, specifically the sugar industry. He spoke about the mutual benefits of learning from each other's experiences and expertise.