SCCI-President Newly elected president SCCI demands for business friendly policies, industrialization in KP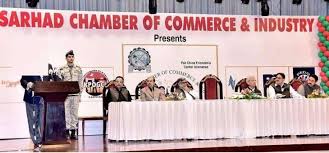 PESHAWAR, Sep 30 :Newly elected president of Sarhad Chamber of Commerce and Industry (SCCI), Faiz
Muhammad has asked the government to opt for business friendly policies and take measures for promoting industrialization in Khyber Pakhtunkhwa.
These views were expressed by him while addressing the Annual General Body meeting of SCCI after assuming charge of office on Saturday night.
Leader of Businessmen Forum, Ilyas Ahmad Bilour, President
FPCCI, Ghazanfar Bilour, outgoing president SCCI, Zahidullah Shinwari and leadingbusinessmen of KP were present on the occasion.
President SCCI, Faiz Muhammad expressed his resolve of
protecting interests of business community of the province and vowed forrendering selfless services for resolution of problems being faced byindustrialists and trading community.
Faiz Muhammad also demanded of the government to rescind the
decision regarding increase in ratio of tax and price of gas.
He said obstacles in way of tax reforms and payment of refund
over income tax and sales tax should also be removed.
He paid rich tributes to the business community of Khyber
Pakhtunkhwa for continuing business is highly difficult environment they faced due to decade long onslaught of terrorism and militancy.
Provision of relief to the terrorism stricken business
community of KP is his top priority, Faiz announced.
He said he would take along side both the industrialists and
trading community and would take all decisions with proper consultation with them.
He also expressed the resolve of taking all the chambers of KP into confidence for adopting a joint policy of action for promotion of
business in the province.
"Promotion of commerce and trade with neighboring and
brotherly country, Afghanistan also tops my priority list," Faiz told the participantsof Annual General body meeting of SCCI.
In this connection, he continued, practical measures would
be taken for taking up cases at governmental level of Pakistan and Afghanistan aswell.
He also announced for making Research and Development Cell
at SCCI as practical which will help in constituting of mechanism for resolution of problems being faced by business community of the province.
Speaking on the occasion, outgoing President of SCCI,
Zahidullah Shinwari briefed the participants about the initiatives taken by SCCI for betterment of business community during his stint in office.
Leader of Businessmen Forum, Ilyas Bilour expressed his best
wishes for the new President SCCI and said businessmen forum believes in selfless services of business community of the country.
He said the new President SCCI is well aware about the
problems being faced by business community and will play his effective role in resolution of the problems.
Ilyas Bilour also appreciated the services rendered by
Zahidullah Shinwari and said he served the business community very well.