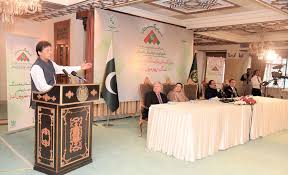 Islamabad: Prime Minister Imran Khan said Monday an ordinance related to foreclosure laws will be put before cabinet for approval to pave the way for housing finance.
Addressing registration ceremony of Naya Pakistan Housing Program in Islamabad, he said housing sector in Pakistan has lagged behind the regional countries due to lack of mortgage facilities to people by banks.
Imran Khan said housing is a basic need and there is a demand of ten million housing units in the country, but salaried class is not able to build their homes due to lack of resources.
He said affordable housing will be provided to people who otherwise are not able to bear the high costs of constructing a house.
The Prime Minister said the purpose of registration is to get a clear picture of vital statistics relating to housing project including area preference, required finances and civic amenities. He said a comprehensive database will be prepared containing all vital information in this regard.
Imran Khan said government will facilitate new entrants to the housing business in order to encourage entrepreneurial culture in the educated youth.
He said forty ancillary industries will benefit from Naya Pakistan Housing Program, reducing unemployment and spurring the business activity. He said domestic and foreign investors are being encouraged to invest in housing projects in the country.
The Prime Minister said the housing project launched on Angoori Road in Islamabad will be completed in one and half years' time while work on the housing program in other cities will start soon.