KP-Weather Dry weather to prevail in KP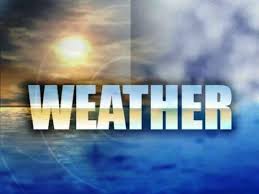 PESHAWAR, Oct 01 :The Met Office on Monday forecast
mainly dry weather for most parts of the Khyber Pakhtunkhwa, however thunderstorm-rain associated with gusty winds are expected at isolated places in Upper and Lower Dir, Shangla,
Swat, Abbottabad, Battagram, Kohistan and Mansehra districts.
The weatherremained dry in most parts of the region during the last 24 hours with maximum temperature recorded as 39C in DIKhan.
However rain-thunderstorm occurred at isolated places in Malakand, Hazara and Peshawar division. The
chief amount of rainfall recorded in mm was: Malamjaba 11, Balakot 09, Saidu Sharif 02 and Peshawar Trace amount.
The maximum temperature recorded during the last 24 hours
in major cities of the province was: Peshawar 35C, Parachinar 25, Bannu 35,Risalpur 33, Balakot 31 and Chitral 29.