NA-Speaker Govt employees should keep human values in mind while using their authorities: NA Speaker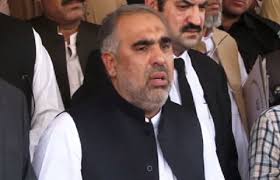 ISLAMABAD, Oct 1 :The Speaker National Assembly Asad Qaiser Monday said that elimination of sense of deprivation and restoration of trust in federation of small provinces is foremost priority of the incumbent government.
He expressed these views while talking to a 23 members course participants of Provincial Management Services (PMS) and Excise and Taxation from Pakistan Provincial Services Academy, Peshawar who called on him here at Parliament House.
He said that equal opportunities will be provided to all provinces in China Pakistan Economic Corridor (CPEC) projects and their concerns on important issues will be addressed with their
consultation, said a press release issued here.
The Speaker said that the government employees should keep human values in mind while using their authorities. He said that development goals can be achieved with good governance and
respect of human values. He said that challenges did not end the nations but the challenges polish them and they overcome these challenges with more diligently and hard work. "The example of Germany and Japan are in front of us" he added. He said that these nations fought very tremendously and hard working with difficult situations.
He said that besides the role and ethics of the nations, the insight and character of leadership played key role to raise the nations. He said that we have to follow the teachings of the Holy Prophet (PBUH) for success.
The Speaker said that the government functionaries were pivot of government machinery and they should carry out their duties with full sincerity and devotion and public service should be their prime objective.
He said that Pakistan passing through a difficult time and all the institutions have to work closely in order to take the country out of this difficult time. Government employees have always played
an important role in strengthening the economy in the developing countries, he said.
Emphasizing the need to promote relations between federal and provincial governments, he said that by promoting contacts between federation and provinces we can solve the issues confronted by the country in better way.