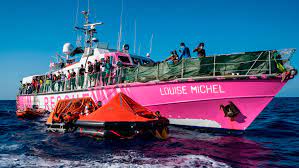 Rome: A migrant rescue ship funded by British street artist Banksy has been impounded on the Italian island of Lampedusa over a new border control policy introduced by Giorgia Meloni's far-right government. It will remain there for a total of 20 days, unable to head out on any new rescue mission at a time when migrants are reaching the Italian coasts in record numbers.
The Louise Michel, a pink-coloured former French navy boat called after a French anarchist and revolutionary, was blocked by Italian authorities in Lampedusa's port on Saturday morning after rescuing 178 migrants. According to officials, activists on the ship violated a new decree-law ruling NGOs' behaviour in search and rescue operations by going on multiple rescues – four in total.
The Louise Michel's crew said they had responded to several Mayday relay calls from a Frontex aircraft warning about people in immediate need of assistance before receiving news that the ship will be blocked by Italian authorities.
According to the Italian Coast Guard, the rescue ship didn't follow officials' instructions to reach Trapani's port after a first rescue mission, going back instead to help more people in distress. These people, the coast guard said, were going to be rescued by officials, but operations were delayed by the Louise Michel's intervention.
The crew of the Louise Michel, on the other hand, wrote on Twitter that though an Italian vessel was present at the scene, authorities failed to promptly intervene to help the migrants in the water.
The new law, approved in January by Meloni's government, makes the work of search and rescue NGOs in the Mediterranean more complicated. According to the decree, NGOs must notify Italian authorities immediately after a rescue operation and head to the port indicated by officials without delay. Ships cannot embark on more than one rescue operation at a time unless authorised to do so by Italian authorities.