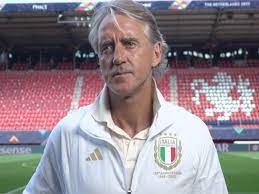 Rome: Italy coach Roberto Mancini has resigned, ending a five-year spell in which they became European champions but missed out on the World Cup, the football federation (FIGC) said on Sunday.
Mancini took charge of the four-time World Cup winners in 2018 after they failed to qualify for that year's global tournament in Russia, having previously not missed the finals of soccer's showpiece event since 1958.
The 58-year-old coach said resigning was a "personal choice".
"I thank all my players and fans who have accompanied me in these five years," Mancini wrote on Instagram.
"I will always carry the extraordinary victory of the 2020 European Championship in my heart. It has been an honour."
Following the retirements of veterans Andrea Barzagli, Daniele De Rossi and captain Gianluigi Buffon, Mancini guided an Italy side in transition to success at the European Championship in 2021.
His team also went on a run of 37 games without defeat between October 2018 and October 2021 — a record in men's international soccer.
Italy performed well at the Nations League under Mancini, finishing third in the 2020-21 and 2022-23 editions.
"A significant chapter in the history of the Azzurri, which began in May 2018 and ended with the 2023 Nations League Finals, comes to an end," the FIGC said in a statement.
"In between, the victory at Euro 2020, a triumph conquered by a group in which all the individuals were able to become a team."
However, Mancini was unable to take Italy back to the World Cup, with the team again failing to qualify for last year's tournament in Qatar following a stunning 1-0 loss at home to North Macedonia in a playoff tie.
Following that failed World Cup qualifying campaign, Mancini came under intense pressure in the Italian media to resign but received backing from the national federation president to continue in the role.
"I thank President Gabriele Gravina for the trust, along with all the members of the FIGC," Mancini added.
His resignation comes just days after the former international forward was given responsibility for Italy's Under-21 and Under-20 teams in a bid to integrate the same styles and systems of play across age groups.
Italy are next in action in September, when they take on North Macedonia and Ukraine in Euro 2024 qualifying matches.
The Italians are third in Group C with three points from two games behind England on 12 from four and Ukraine with six from three. North Macedonia have three points from three matches.
"Taking into account the important and upcoming commitments for the UEFA Euro 2024 qualifiers… the FIGC will announce the name of the new national coach in the next few days," the federation said.
Italian media reported that Antonio Conte and Napoli's Serie A winning manager Luciano Spalletti, who left the club in the close season, are potential candidates to take over.
Conte previously managed Italy from 2014 to 2016, guiding them to the Euro 2016 quarter-finals where they were beaten by Germany on penalties.