Italy divided over response to giant blue crab invasion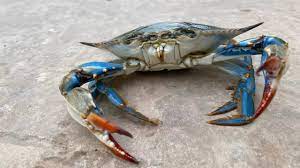 Rome: The government has been urged to declare a state of emergency over the blue crab explosion, fuelled by climate-warmed waters.
As the sun rises over the vast Sacca di Goro lagoon in northern Italy, married fishers Marco Bellan and Barbara Turolla haul in a net writhing with giant blue crabs. But this is not their usual catch.
The Po Delta, an area of UNESCO-designated wetlands an hour south of Venice, is famed for local seafood like mussels, vongole veraci – a species of clam – and pink oysters.
But this year, a killer crustacean has dominated the waters and is obliterating the area's indigenous species.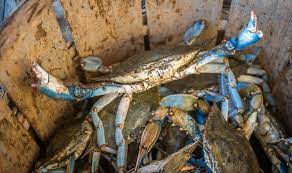 Blue crabs have been present in the delta for decades, but this year the population has exploded.
Authorities and fishing lobbies are scrambling to find ways of using and disposing of the shellfish – including sending container loads to the US where it is considered a delicacy.
In the meantime, the Po Delta's fishing and culinary traditions remain in peril.
Recently, fishers in the Sacco di Goro have been pulling around seven tonnes of blue crabs out of the lagoon each day.
The crustacean is not indigenous to the Po Delta or anywhere along Italy's coastline. It likely made the journey over in the late 1940s from the shores of north and south America on cargo ships in the ballast water.
Though their presence is not new, the population of the fast-reproducing crab has surged this year to a critical point, especially as it has no natural predators in Italy's waters.
The suspected culprit is climate change. "With warming waters, the crabs have become more active and voracious," says fisherman Bellan. When the temperature of the water drops, the crabs eat and reproduce less, but recently the opposite has occurred.
"Usually, at certain times of the year, when the water drops below 10C, this crab does not live well, but now finds the ideal temperature 12 months of the year," Enrica Franchi, a marine biologist at the University of Siena, said.
Despite not being on many tourists' radars, the Po Delta is a haven for local seafood.
Restaurants line the waterways and shore of the wetlands, some in restored fishermen's huts raised on stilts above the water.
On the menus are time-honoured classics like spaghetti with clams, grilled eel and mussels in a rich tomato sauce.
But concerns are growing that these might soon become rarities. Blue crabs are devouring local seafood and, with powerful claws that can rip through fishing nets, are seemingly unstoppable.
"When we arrive at the nets, we find them littered with broken and empty clam shells," says Turolla.
"They're eating the clams ready to harvest, but also those just born – meaning next year's supply has essentially been wiped out," adds Bellan.
He and his colleagues estimate production will be down 80-90 per cent next year.
The Atlantic blue crab is a summer delicacy in the US, eaten steamed, pan-fried, as crab cakes or in soup.
Italian agricultural lobby Coldiretti has proposed adopting America's eating habits and putting blue crabs on the menu.
The group promoted their idea with a recent event at an agritourismo (countryside tourist accommodation where products come from the property's farmland) just north of Venice by serving up rosemary blue crab salad and pasta with garlic-tossed blue crab.
Italy's prime minister, Giorgia Meloni, added her approval by posting a picture with a dish of crabs while on holiday at her farmhouse in Puglia.
Blue crabs are already appearing in fish markets and supermarkets at around €8-10 a kilo.
But the 'if you can't beat them, eat them' plan comes with major risks. Dedicating resources to catching blue crabs as a food source undermines both fishing and culinary traditions in the Po Delta and other fishing areas.
Skilled techniques of breeding, fishing and processing indigenous species like clams as well as recipes and dishes that are part of the area's gastronomic heritage would be lost.
The governor of Emilia-Romagna, Stefano Bonaccini, made his position clear at a recent summit. "This invasion risks destroying an economy which not only provides a livelihood for a community," he said, "but which is an Italian and European excellence, together with other identity products of this region like Parma ham or Parmigiano."
Lionello Cera, chef at the two Michelin-starred restaurant Antica Osteria just north of the Po Delta, was unyielding when asked if blue crabs would ever feature on his menu.
"They are destroying our lagoon and some people are suggesting they can take the place of our granseola [local spider crabs]," Cera said in an interview with Italian press. "My answer is no."
The Po Delta extends north into the Veneto region and south into Emilia Romagna, where both authorities are strictly focused on eradicating the crustaceans rather than dishing them up.
Rome has allocated €2.9 million to tackle the issue, but the Veneto's regional president Luca Zaia has appealed to the government to go further and declare a state of emergency.
The regions are also orchestrating a kind of manual reverse migration. Fishing consortiums in the Sacca di Goro have already loaded 16 tonnes of blue crabs into containers and shipped them to the States to be sold in food markets.
Visiting the Po Delta fishing communities this week, Zaia warned that 1,500 jobs are already at risk. "This is a real cataclysm," he said. "It must be understood on a national level and urgently."