Nadeem Afzal Chan chides PML-N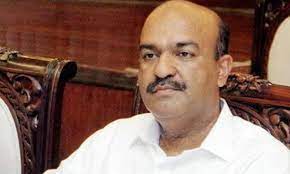 Liaquat Ali
Islamabad: Criticizing the PML-N, PPP leader Nadeem Afzal Chan on Saturday said no one else could be blamed for a party abandoning its slogan of 'vote ko izzat do' (respect the vote).
The PPP leader's statement comes against the backdrop of growing differences between the two parties — which were part of the erstwhile Shehbaz Sharif-led ruling coalition in the Centre — mainly on elections.
Earlier this week, in a thinly-veiled rebuke directed at their former coalition partner, PPP Chairman Bilawal Bhutto-Zardari remarked that the timing of the general elections remained uncertain, yet a particular party seemed to possess such information.
"No one knows when the elections are supposed to be held, not me, or the chief election commissioner, but a certain party already has the information. This is the reason I talk about level playing field," the PPP chairman had said.
He further said, "Curr­ently, there is a level playing field in the country for some [parties], but not for everyone; and I object to that."
The PPP has also called for holding elections at the earliest while the PML-N has been of the view that a fresh delimitation of constituencies should be completed before elections — an exercise that pushed polls beyond the constitutionally mandated period of 90 days following the dissolution of the National Assembly on August 9.
During a press conference alongside party leader Faisal Kareem Kundi today, Chan expressed the PPP's desire for elections but clarified their reservations about a scenario reminiscent of the Islami Jamhoori Ittehad (IJI), a political alliance formed to thwart Benazir Bhutto's PPP from winning the 1988 elections.
Chan emphasised the importance of a level playing field, saying that it entailed affording all parties an equal opportunity to participate in the electoral competition.
He affirmed the PPP's commitment to its motto, contrasting it with vote ko izzat do". Implied that the party behind the slogan had changed its stance, he said it was not good to "hide behind institutions".
Chan further said, "How many visits were made to Thar, Sehwan Sharif, Khairpur, and other cities during your time in power?" He posed this question in light of reported plans by PML-N leaders to conduct election campaigns in Sindh.
In his statement, Kundi expressed concern about the statements coming from their former coalition partners and urged against souring the relationship so swiftly.