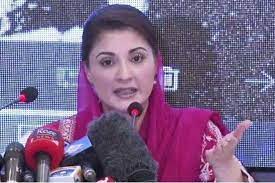 Peshawar: Pakistan Muslim League-Nawaz (PML-N) Senior Vice President Maryam Nawaz came hard on opponents on Saturday, saying attempts to exclude former prime minister Nawaz Sharif from politics had derailed the development of the country from its track.
The PML-N chief organiser was addressing a party gathering in Peshawar. "Those who wanted to minus Nawaz Sharif have themselves vanished from screen," she quipped.
She confirmed that the former premier, who has been staying in London for his treatment since long, would return to Pakistan on Oct 21, saying the days of distress were about to over for masses.
Maryam said Nawaz Sharif wanted to usher in a new era of development in country and rid the public from inflation. She added that her father resolutely faced the political victimsation and emerged victorious.
Nawaz Sharif had been punished for serving people and controlling inflation, she said. While referring to disqualification of the former premier, she said such incidents sparked inflation and derailed the country from the track leading to development.
She said conspirators did not want to see Pakistan economically stable. She recalled that prices of flour, ghee and sugar remained stable during the five-year tenure of the PML-N government.
There would have not been inflation and crisis in the country if Nawaz Sharif had not been removed as the prime minister, she said.
She expressed resolve to end "economic" terrorism in the country, adding that an historic programme would be launched for development in Khyber Pakhtunkhwa.