Stage set for Justice Isa as, Justice Bandial bows out as CJP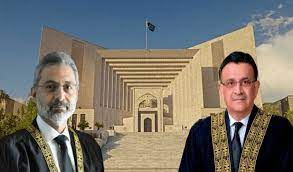 Liaquat Ali
Islamabad: As Chief Justice of Pakistan (CJP) Umar Ata Bandial retied Saturday, his successor Qazi Faez Isa is scheduled to take the oath as the 29th chief justice of Pakistan on September 17, Sunday.
Outgoing CJP Umar Ata Bandial reportedly held a farewell meeting with the officers and staff of the Supreme Court on Saturday.
In his brief speech on the occasion, CJP Bandial expressed his best wishes for his successor, fellow judges and the staff.
According to sources, Qazi Faez Isa will take the oath as the incoming CJP from President Dr Arif Alvi at the President's House on Sunday at 11 in the morning.
Reportedly, the outgoing CJP has vacated his official residence at the Judges Colony in Islamabad.
It is important to mention here that Umar Ata Bandial served the apex judicial office for over 19 months after his appointment on Feb 2, 2022.
His successor, Justice Isa, will serve as the CJP for over a year, until Oct 25, 2024. He took the oath as a Supreme Court judge on Sept 5, 2014.