By-elections 2018: Unofficial results start pouring in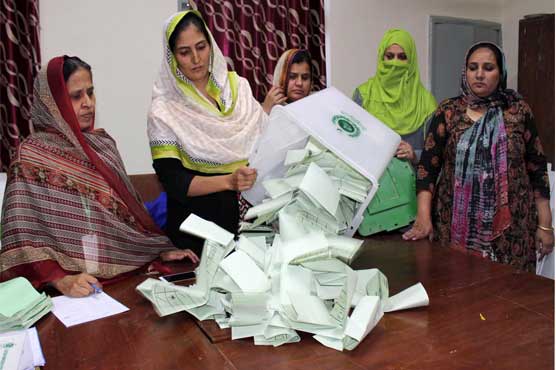 A total of 641 candidates are contesting by-elections on 35 seats.
Unofficial results began to pour in on Sunday as officials counted vote for by-elections on 35 constituencies of National and provincial assemblies.
The ruling Pakistan Tehreek-e-Insaf (PTI) party is leading in National Assembly constituencies of 35, 53, 60, 63, 131, and 243.
In NA-56 (Attock-II) constituency, PML-N candidate Malik Sohail Khan is leading the race with 1885 votes against PTI candidate Malik Khurram Ali Khan, who bagged 1125 votes.
Former prime minister Shahid Khaqan Abbasi is leading with 1813 votes in NA-124 (Lahore-II) constitunecy. Unofficial results from 10 out of 415 polling stations showed Pakistan Tehreek-e-Insaf s Ghulam Muhiuddin bagged 1035 votes against the PML-N leader.
By-elections are being held on 11 National Assembly seats and 24 seats from provincial assemblies including 11 seats for Punjab Assembly, nine for Khyber Pakhtunkhwa, and two each for Sindh and Balochistan.
Prominent politicians have cast their votes in their respective constituencies.